We have a beautiful selection of winter landscapes holiday cards that should fit your specific business or personal needs.
Click on image or product links for additional information, current pricing and to place an order.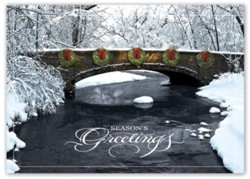 Send warm holiday greetings with this strikingly serene and budget-friendly Full of Beauty Card.
Unique touches include rich, full-color imagery on high-quality white paper stock with a glossy cover.
Custom imprinting: Personalize the inside of this card with business information in an elegant silver foil imprint or ink.
Foil-lined envelopes: Included with silver-foil lining that matches cards perfectly.
Customized verses: Choose from a variety of pre-written verses or create your own.
Return address: In addition to adding your logo to your holiday card, you can imprint your company's return address.
Self-seal envelopes: Simply remove protective strip and press self adhesive edge to close.
Signature imprinting: Speed your cards on their way by eliminating individual card signing.
Free samples upon request: Touch and feel our high quality for yourself.
Shipping: Most card orders will ship in 3 business days.
Add a logo to this product
Choose a typestyle for your company name
Choose an ink color
Inside greeting reads: Warmest thoughts and best wishes for a wonderful holiday and a very Happy New Year!
You may choose an alternate greeting for this product
Create a personal greeting with this product
Click on image or product link for additional information, current pricing and to place an order.