Click on image or product links for additional information, current pricing and to place an order. FREE, optional, automotive business logo design!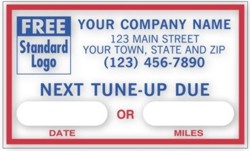 Easily apply these revenue-boosting custom vinyl labels & drive repeat service business for a super low cost!
Static cling windshield labels keep your customers coming back by reminding them of scheduled vehicle service, oil changes, tuneups & more.
Labels stick to windows without adhesives for easy removal & replacement.
Customers see your label whenever they drive for a can't-miss reminder.
Select imprint options preprinted on label

"Next Service Due"
"Next Lubrication Due"
"Next Oil Change Due"
"Next Tune-up Due"
"Next Tire Service Due"
"Service Performed at"
"Special (custom) Wording" available

Free personalization includes your business imprint plus choice of typeface & standard business logo.
Additional customization options include imprinting your custom logo.
Check with local authorities before use as some states prohibit windshield stickers.
Add a logo to this product
Choose a typestyle for your company name
Free imprint of business information and optional business design imprint is available.
Promote your business with our professional cost-effective promotional products.