TWO QUESTIONS TO GET YOU STARTED
by Martin S. St. John
November 30, 2010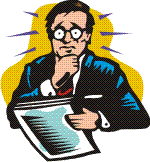 When starting a business too many people start without proper start-up planning. I suggest that you think of the two following questions in your planning before you start up the business. You should answer these questions before you start up the business. And be sure you do research in answering them, don't guess.
When you are starting a business two questions should be kept in mind. First, "What does the customer truly want"? And second, "Why will the customer buy from me"?
As to the first question, this is formally called "generic needs" definition in classic marketing terminology. It means that the potential business owner should research the members of the target market to determine what their specific needs and wants are that lead them to purchase your product or service.
Two examples of this are: A man who owned a hardware store was asked at a trade convention meeting the following question: "Jack, what do you sell"? The audience expected the answer to be that he sold bolts, nuts, tools, seeds, plants, screen doors and other such items used in a home. Jack's answer was "I sell items to beautify your home". The audience was surprised by this until he explained it. Anyone can sell the hardware items that are carried by the traditional hardware store, but Jack presented them in such a way that truly went to the heart of why a customer goes to the store in the first place; to make their home "look" better and more attractive.
The second example is from my own experience running a bridal boutique. People would ask me "Marty, what do you sell"? Again the expected answer was bridal gowns, tuxedoes, mother's gowns, bridesmaid's gowns, prom gowns and formal wear accessories. My answer was "I sell clothing and accessories that remove your need to worry about the items for your wedding". The overwhelming response from customers was something like "….Oh my God, that's what I have been worrying about. I'm glad I came here" You see how this works. You must think creatively about the reasons why people are coming into your place of business. They are not there for the obvious items, but have needs and wants that they want satisfied by patronizing your business. Remember this as you plan your business.
Present your business in such a way that you are focusing on customers' need and want satisfaction by presenting features and benefits of your goods/services that satisfy the customers' needs and wants. This is accomplished by doing market research to not only identify the target market but to dig deep into the psyche of the members of the target market to understand why they need and/or want your goods and services.
In the second question, you must ask yourself "What characteristics of my business will encourage the customers to buy from me"? Is it your location, is it your prices, is it your personnel, is it your hours or operation, is it the convenience of patronizing your business, is it your atmosphere, is it your knowledge of the product/service, or is it your maintenance ability? Customers buy from friends, not enemies, so you must identify features of your business that attract them to buy from you. It is not always price. Keep in mind the price quality link, which is Price = Quality. High price is perceived as high quality, low price is perceived as low quality. So trying to offer the lowest price is not always successful because the customer may ask "What's wrong with it"? Too many beginning business owners think that offering the lowest price is the way to build business. It is often impossible to do this since many beginners have not correctly and accurately determined their true costs. Answering these questions through proper and careful research is crucial to your successful start-up.
Copyright © 2010 Martin S. St. John. All rights reserved.